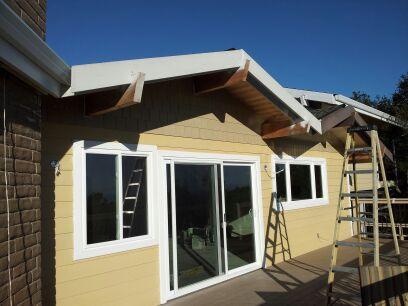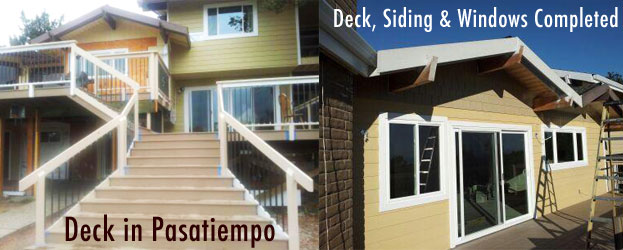 Airtight Vinyl Siding & Windows is proud to showcase our deck building skills.
Do you need a general deck remodel?  Do you need an atrium?  Would friends and family just love to lounge, talk about hobbies, business or just simply retreat on your new or updated Airtight Vinyl Siding & Windows porch?  Whatever the scenario is, Airtight Vinyl Siding & Windows can do it!  Our family-owned business has been in operation for over 20 years in Santa Cruz and Monterey Counties making our ability to design, redesign or create (in collaboration with YOU, of course) a deck, porch or atrium.
Airtight Vinyl Siding & Windows will custom build or remodel your deck or porch using your choice of guaranteed Pressure Treated Redwood, Cedar wood or choose from composites materials that are far easier to clean (not to mention how much longer they last because of pure durability), considering reputable brands such as James Hardie, Plank or Azek Decks.  We also repair or remodel existing wood porches and decks.  Keep in mind that Airtight Vinyl Siding & Windows is an expert installer/updater of windows, doors, tile and siding for homeowners living in the surrounding Santa Cruz Counties; we are a one-stop shop.
Living in sunny California has many benefits and we all enjoy them.  First and foremost is the weather.  We love the weather but that wonderful weather that we cherish makes the lifetime of any outdoor living space critical in terms of wear and tear which indubitably becomes susceptible to the natural elements.  Year-round, resilient designing is what Airtight Vinyl Siding & Windows does best- we even have clients who have used our design specialists to turn that indoor, or sometimes already existing outdoor space into the perfect deck or patio.  As a portion of the Airtight Vinyl Siding & Windows FREE estimate, we will also be more than happy to offer you particular options for the natural-set kitchen in the outdoors or those great grills that we see a majority of our clients seeking.  No friends, family members or foes are going to dislike such attributes.

Let's Think Practical
Airtight Vinyl Siding & Windows has your absolute best interests in mind.  Let's not only think practical but look at the facts of which, just to name a few:
Airtight Vinyl Siding & Windows is client-based.  We value the input of our customers and, because of this, we are confident that our referrals, which are over 70% of our clientele, come from already satisfied customers.

Airtight Vinyl Siding & Windows may be referring to our valuable deck projects here but we also, as our name indicates, offer premiere window installation, repair and replacement services in addition to our exception vinyl siding services.

Airtight Vinyl Siding & Windows has over 7,000 clients in the surrounding Santa Cruz, California Counties.  This speaks for itself.
Financing With GE
If you know you need that new deck, porch or atrium and may not have the financial means to pay for anything or everything upfront, you have options.  Airtight Vinyl Siding & Windows is more than proud to offer our financing services complemented by GE Financing .  We are a proud partner of General Electric (GE) and have the pleasure of offering GE's financing options to all our clients.  In several cases, we have even see GE offer such a terrific financing options that a home or business owner may even get  more than they want!
Airtight Is The Way To Go
We aren't talking about the aesthetics of a lazy evening here, we are talking about increasing the value of of your home and massive increase on its Return on Investment (ROI) that, as a client of Airtight Vinyl Siding & Windows, you will receive.  Your new deck will set you apart from the neighboring establishments.
Do you want to repair, replace or build your deck?

Have you thought about that much-desired sunroom?

What about the screened porch you may want?
Airtight Vinyl Siding & Windows has the most extensive product selection, impeccable design specialists and absolutely every permit required in the nation.  We want to design and build the most economically efficient ideal outdoor living space…a deck, balcony, patio or atrium…for you to enjoy.  And it will be functional.  Embarking on a deck project is no easy endeavor, that is why Airtight Vinyl Siding & Windows is here to help you through from start to to end.
Hey, Santa Cruz County homeowners: want to learn more about our decks, types, styles and prices?  Please contact us for a free in-home consultation or give us a call at 831-462-9695.