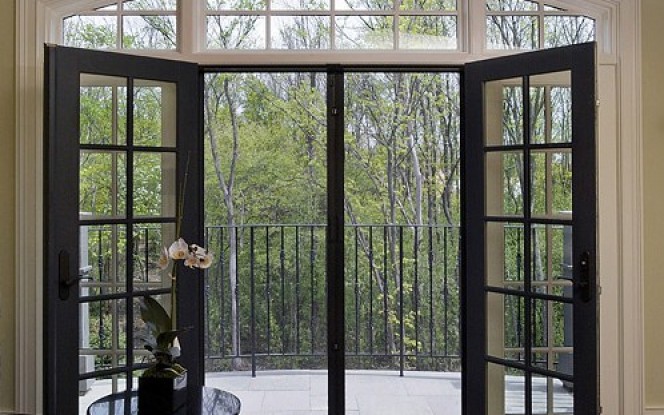 Installing New Patio Doors To Your Deck In Santa Cruz County  
What is the best way to bring the beautiful Santa Cruz County ambience into your home?  Select and install a hinged French door or sliding patio door so you can still have beautiful views and and impeccable entrance way into your home.  Also, let's not forget that the latest and greatest patio doors prevent drafts, which means they will lower your electricity bill and overall homeowner costs.   
It's summertime so, if you are thinking of constructing a new or updating a deck at your home, in Santa Cruz, Airtight Windows & Siding has got you covered. A brand new deck gives you the opportunity to completely redesign the deck or patio structure.  If you already have a backyard deck or patio, it is likely that you do not have the latest technologically advanced door.  This means a loss of money and a lack of beauty.  
Nowadays, a deck or porch is an extension of your home, particularly in a place like Santa Cruz where the outdoors is a treasure.  Your porch or deck is part of your living space and functions in the same way that an ordinary kitchen or living room would function.  And, in the event of undesirable weather and storms or humidity, the perfect patio door will maintain the view you want while protecting your home from fierce weather.  Regardless, a spacious patio door will increase the value of your home and make your home appear more spacious.   
At Airtight Vinyl Siding & Windows, we offer the widest variety of doors for our clients.  We are also experts in the the installation process.  Just take a look at some of our offerings below.
Different Types Of Patio Doors Which Bring More Light Into Your Home
With so many door options and selections for your doorway, patio entrance or exit, where do you start?  At Airtight, we want to give you a rundown of possible selections and top manufacturers (Anlin, Andersen Doors, Marvin Doors) and their pros and cons.  Here we go:
FRENCH PATIO DOORS
Swinging and/or Sliding- What Works Best For Your Needs?  French patio doors are considered elite and the next best thing.  Fashionable and functional, they suit all needs.  Here are your options: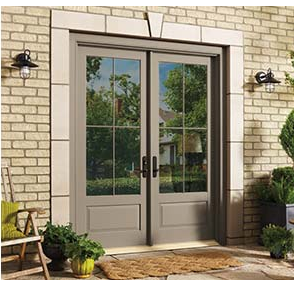 The Modern Touch
Those marvelous swing French doors are classy and useable.  Airtight will ensure our craftsmanship and design expertise.  We will also guarantee energy savings.   
The Sliding Touch Design
The benefit to a sliding and elegant fashion, upscale French doors of the sliding fashion save space.   This is something to consider if your door is being installed in a smaller area or if you just want to maximize space.  Airtight will thoughtfully customize your door and allow you to choose how you want to transform and adapt your to door to suit your needs.  All this is complemented by an absolutely energy efficient installations or updates.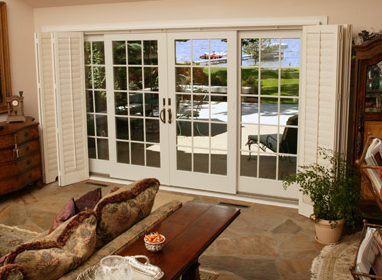 HINGED PATIO DOORS
If one word could describe hinged patio doors, it would be dazzling.  At the same time that hinged patio doors exemplify excellence, they are also traditional and flexible in terms of features such as shape, glass options and panel arrangement.  The options are limitless: do you want two movable doors or a single door or something else?  Airtight will also give you the option of choosing between wood, fiberglass, vinyl- all of which are impact resistant.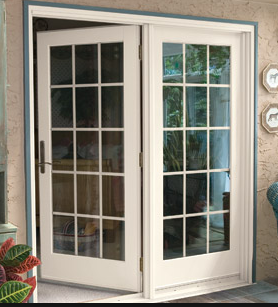 VINYL PATIO DOORS
Vinyl patio doors are another one of Airtight Vinyl Siding & Windows' specialities.  In fact, we believe that we set the highest standards for our vinyl doors.  We have a custom method for vinyl doors that insists on durability and all traits of great quality.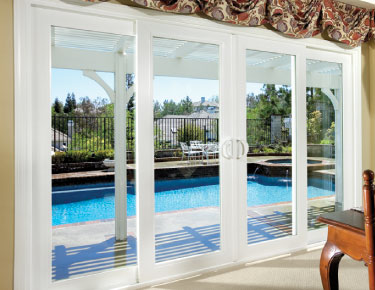 How Do You Choose?
A few things to think about are:
The different kinds of patio doors available

Your price range and budget

What is most functional and visually appealing to you

What size door opening do you have for your patio door

Where is the door going to be installed

Is there going to any need for exterior work such as siding replacement or new paint
Attention Santa Cruz County homeowners!  Learn more about our pricing for replacement windows, types and styles.   Contact us for a free in-home consultation or give us a call at (831) 462-9695.