Siding is going to be the first thing visitors realize when lounging on your beautiful deck or patio.
You want your house to be admired, right?  Well there is a simple and easy place to start which just means a call or contact to Airtight Vinyl Siding & Windows.  One of the the most comprehensive and value-increasing home investments you can make for your residence is new siding.
Home or commercial siding replacement is going to leave anyone with three options:
Vinyl Siding
Wood Siding
Fiber Cement Board
Bankrate.com describes upgrading to fiber cement siding as one of the single  best investments in home renovation. What needs to be always in the back of your mind is that Return on Investment (ROI) is not be immediately increased overnight.  More importantly, it is not not going to continuously depend on that new fad of fiber cement.  The way to go is still with vinyl siding, which other studies indicate make potential consumers look at first.  Vinyl siding is far more resilient to inclimate weather and that ocean spray which we all cherish.
You may come across a person or individual who looks outside at your home instead of inside.  And that person may be important in some way.  So, let's make sure you have that outside aspect covered with attractive siding.
Vinyl Siding Replacement & Repair?
Nearly 32% of Santa Cruz County homes exhibit vinyl siding.  Because of the 72% ROI, a vinyl investment cannot lose.  Apart from that, it is trendy and reliable combined with a simple installation process. Let's focus on the exterior of your home looking the best possible.
Cost- good question and we would not want our customers to not ask this question.  Here is our list of comprehensive question that you, as a business or homeowner need to ask.  Our answers are also included:
Vinyl siding is inexpensive.  Depending on the portion of repair or remodeling you need, your brand new exciting siding will be in the range of $2 to $5 per square foot.  This will depend on your vinyl material preference.

Vinyl installation comes without overhead because we include that in our already reasonable cost.   This means no other fees.

As with Hardieplank would like to admit, you do have to paint, paint and repaint Hardieplank.  The Vinyl solution for siding does not require this in the least.
Vinyl siding is typically completed quick and easy but in lighter, and now more fashionable Santa Cruz, color choices.  Other than being the most savvy house on the block, you will be the most energy efficient.  This is because darker colored paints absorb more heat which mean a higher electricity bill.
Quality vinyl siding comes with great insulation.  Your maintenance on vinyl siding will be non-existent.  Once in while, take that outdoor hose and wash the siding.  However, that will be the extent of your maintenance.
Fiber-cement Siding?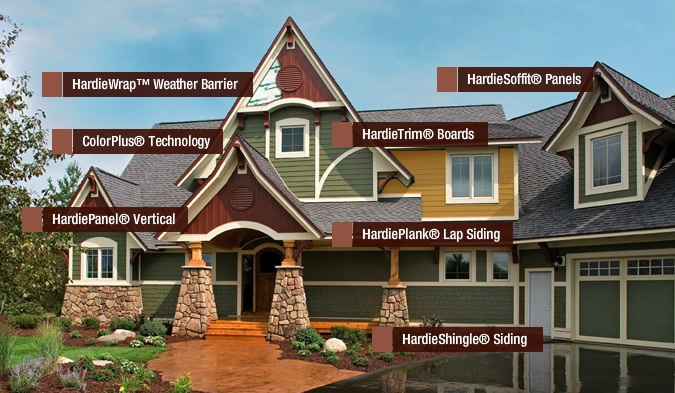 A recent James Hardie report from December, 2012; James Hardie having for an 8th reliable and consecutive 8th year of being the knowledge expert, states-
"Remodeling Magazine's Cost vs.Value Report states that re-siding your home with fiber-cement siding in mid-range or larger categories provides the #1 return on your remodeling investment.

There are many other projects you can tackle, but only re-siding with fiber cement gives you the best return on your investment when one one reviews the value report at (www.costvsvalue.com).

Residing with fiber cement gives a 25% better return than adding a bathroom and costs $61k less to complete
Roof replacement remodel gives you a 23% less return on investment than re-siding with fiber cement
Replacing your windows nets you 7% less return on investment than fiber cement re-siding

Since 1988, the industry leader in home remodeling suggestions is Remodeling Magazine. Their  Cost vs.Value Report has analyzed, scrutinized and compared construction costs for common remodeling projects.   This report looks at value that can be added to a residence or commercial location, resale value for the same projects and look with feel  The results – upscale siding projects using fiber-cement return the highest value at resale."
Wood Siding?
Wood siding is the most expensive you can get and also requires constant attention and money.  With wood siding, you have to get the best which is more than likely $8 per square foot, if not more.  And, the brand which you may choose is going to raise the price per square foot.   Then, it's wood so splinters, easy damage and fading are inherent.
Santa Cruz County Homeowners need to learn more about our replacement and repair siding and window services.  Want to see more about our offerings regarding types of options, styles and prices? Please contact us for a free in-home consultation or, if easier, give us a call at (831) 462-9695.  We look forward to hearing from you!