ENERGY STAR qualified windows, doors, and skylights can reduce your energy bills up to 15% while helping protect the environment.
ENERGY STAR qualified products that help homeowners save money on energy bills, and for reducing greenhouse gas emissions during manufacturing. Also , ENERGY STAR qualified windows, doors,  do more than just lower energy bills-they deliver more comfort, create less condensation, and protect your valuables from sun damage better than conventional clear-glass double-paned alternatives.
Which is why, when you choose Energy star rated windows and  doors, you know you're getting energy-efficient products that help reduce the transfer of heat, so your house requires less energy for heating and cooling. And since the durability of these products reduces maintenance, painting and the need for replacement, they help save resources and energy in the long run.
Airtight Windows & Vinyl Siding is an ENERGY STAR partner and offers Santa Cruz residents products that meet the ENERGY STAR qualification criteria.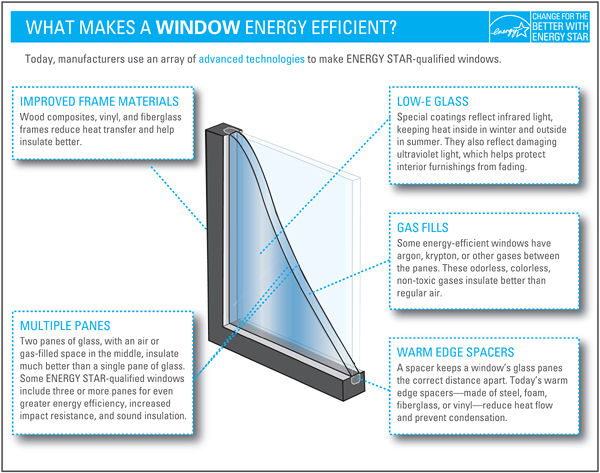 Installing ENERGY STAR qualified windows lowers your energy bills and costs and saves you money over single-pane and even new double-paned, clear-glass windows.
For a typical home, choose ENERGY STAR and save:
$126–$465 a year when replacing single-pane windows

$27–$111 a year over double-pane, clear glass replacement windows
Framing Materials
ENERGY STAR qualified windows come in a variety of framing materials.
Fiberglass frames are strong, durable, low maintenance, and provide good insulation. Fiberglass frames can be either hollow or filled with foam insulation.
Vinyl frames are low maintenance and provide good thermal insulation. Sections may be hollow or filled with foam insulation. Wide vinyl sills may be reinforced with metal or wood.
Aluminum frames are durable, low maintenance, recyclable, and typically have at least 15% recycled content. Frame design typically includes thermal breaks to reduce conductive heat loss through the metal.
Wood frames are strong, provide good insulation, and are generally favored in historical neighborhoods. The exterior surfaces of many wood windows are clad (or covered) with aluminum or vinyl to reduce maintenance.
Combination frames use different materials separately throughout the frame and sash to provide optimal performance. For example, the exterior half of a frame could be vinyl while the interior half could be wood.
Composite frames are made of various materials that have been blended together through manufacturing processes to create durable, low maintenance, well-insulated windows.
To learn more about efficient window technologies, visit the Efficient Windows Collaborative
BENEFITS. High-performance windows can provide many benefits including:
Improved comfort. High-performance windows reduce conductive heat losses and gains resulting in warmer interior surfaces during the winter and cooler interior surfaces during the summer. In homes, approximately 40 percent of our physical comfort is due to the radiant heat exchange between our bodies and the surrounding interior surfaces. Thus, high-performance windows improve comfort by reducing this radiant heat exchange. In addition, improved frames reduce drafts and provide more consistent temperatures throughout the house.
Quieter home. High-performance windows often utilize multiple glazing and insulated frames. These features reduce unwanted noise from the outside.
Increased quality. High-performance windows are constructed with better quality materials that result in stronger, easier to operate, and longer lasting windows. As a result of these improvements,
Improved indoor air quality. High-performance windows have air tightness ratings of 0.1 cfm/ft or less which reduce the amount of unconditioned air leakage into a house. This air leakage can bring in dirt, dust, and other impurities that can negatively affect indoor air quality.
Lower utility bills. High-performance windows are better insulated and more air-tight. These features reduce energy consumption for heating and cooling.
Reduced obsolescence. Based on recent trends for improved efficiency, high-performance windows are becoming the standard practice for the building industry. Since it is both difficult and costly to replace windows after a house is built, it is best to install high-performance products during the original construction. ENERGY STAR labeled homes constructed with high-performance windows are, therefore, expected to be less vulnerable to obsolescence.
Improved resale position. High-performance windows can provide the many impressive benefits listed above resulting in a more comfortable, quieter, and higher quality home with lower utility bills and fewer condensation and fading problems. These benefits can translate into higher resale value of your home when its time to sell.
Fewer condensation problems. High-performance windows stay warmer in the winter resulting in drier windows with fewer condensation-related problems. Condensation can stain fabrics, lead to mold and mildew build-up, and in cold climates cause damage due to the freeze/thaw cycle.
Reduced wear on home furnishings. Low-E coatings can block up to 94 percent of the ultraviolet radiation emitted by the sun. This radiation causes curtains, window treatments, carpeting, and furniture to fade and wear faster.