Replacement Window Styles for Santa Cruz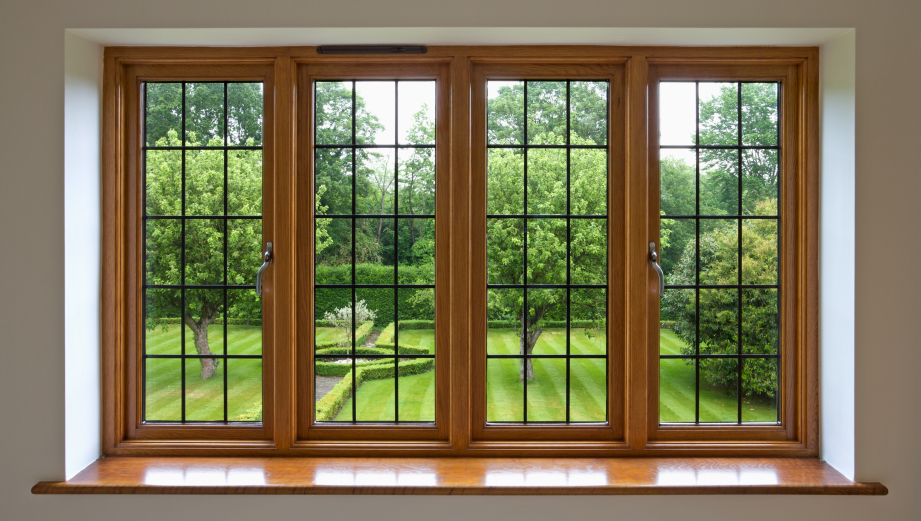 Regardless of what is motivating you – building a new home, energy cost, or drafts and frosty frames – understanding how windows work will help you choose the right product. Replacement windows also make your home quieter by reducing noise from the outside. And replacing windows can make your home more attractive and increase its value. New window designs allow for easy cleaning and smooth reliable operation.
Practical benefits of efficient window selection include:                          

Lower heating and cooling costs
Less condensation and fungal growth
Reduced fading of carpet, upholstery
Windows covering and artwork; and energy savings.
All these benefits are factors of glazing, frame composition and window operation.

Single Hung Window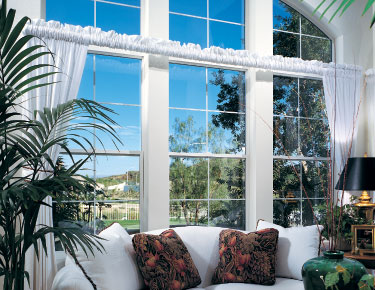 Single hung window offers a classic appearance to any home. It features a movable bottom sash (Window Pane) and a top fixed sash.   Single hung windows feature a 1/2″ constant force stainless steel balance system engineered to never need adjusting and to provide uniform ease of effort to open and close your windows  Our single hung windows are available in both the Catalina and Monterey styles. Both of these styles use a 2-7/8″ deep frame. The Catalina style blends nicely with the Coronado style if you want to include casement windows or a bay & bow window in your window remodeling project.
Double Hung Window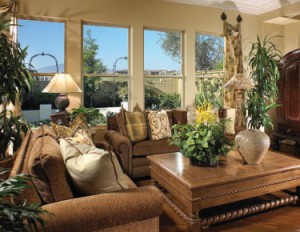 Double hung window is best suited to traditional architectural styles. Double-hung windows feature an upper and lower sash that slide vertically past each other in a single frame. Both sash tilt in for convenient cleaning. Double hung windows are common in older homes along the eastern coast of the United States.
Double hung windows have two glass panels positioned on top of each other, and slide vertically to open and close. Both panels also tilt in for easy cleaning from inside your home.
Horizontal Sliding Windows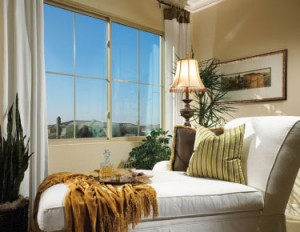 Sliding windows come in two kinds, Double Slider and Single Slider.  Sliding windows generally slide horizontally to create ventilation that extends to the full height of the windows. These windows are composed of one stationary sash and one sash that glides to the right or left. The operating sash slides on rollers and can be removed easily, so you can clean the glass.
Anlin slider windows feature rollers made with stainless steel axels and Delron wheels for a lifetime of trouble-free performance.  We are happy to show you many window samples and answer any questions regarding which windows will work best for your home.
Casement Window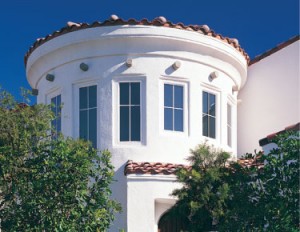 A casement window perfectly complements the simplicity of modern design. This type of window is hinged on either side so that the sash opens outward, to the right or left, in a swinging motion. Casement windows were once the most common form of domestic window before the introduction of the sash.
They are designed contemporary in style, allowing more light to enter the window, while also providing a larger view.  Casement windows are available only in the Coronado style as they need the 3-1/4″ inch frame depth.
Picture Window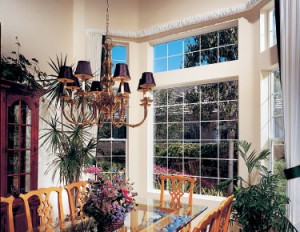 Picture windows provide an excellent light source when ventilation is not desired or inaccessible. Picture windows are windows that cannot be opened. Picture windows have one glass panel that does not open, but that is designed for one purpose: to open your home up to the beauty of the outdoors.
They are non-venting or non-operable. Picture windows look good by themselves, grouped with other picture windows, or even in combination with other window styles such as casement windows.  Since picture windows are frequently combined with other windows, our picture windows are available in Coronado, Catalina and Monterey styles.
Awning Window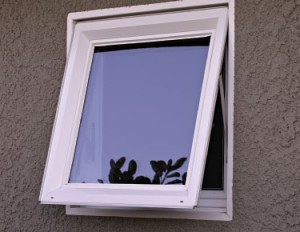 Awning windows have one glass panel that is hinged at the top and swing open from the bottom. Awnings are frequently used below a picture window so you can have a maximum clear view with the picture window but still have ventilation available below.  Designed for performance and aesthetic quality, it features an opening that is wider than ever.
The Ultimate Cranking Awning adds light to a room and provides better airflow and expansive, open views. For maximum visual impact and flexibility, the Ultimate Awning can be used on its own or as a complement to casement or picture windows.Awning windows are available only in the Coronado style as they need the 3-1/4″ inch frame depth.
Bay and Bow Window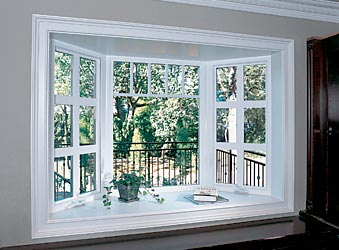 A series of window styles together was grouped to create an impressive window design. Bay windows are typically three separate windows joined together to form one large viewing area. The center window is commonly a picture window, with fully operational double-hung or casement windows on either side.
Bay and Bow Windows can dramatically improve the appearance and value of your home. They practically bring the outdoors right inside. Rooms feel larger and lighter. Simply put, bay and bow windows make a home special.
Bay and Bow windows are made using any combination of Coronado Picture, Double Hung and Casement windows.
Garden Window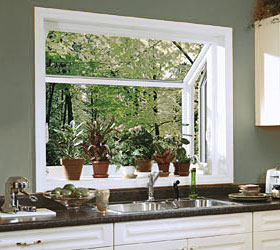 Garden windows are a great way to let the sun into any room. This window is a projecting, three-sided window that includes one shelf, a glass top and a single (double) hung window on each side for maximum air circulation.  Garden windows offer a popular way to brighten a kitchen or bathroom, opening the room to more sunlight and providing a plant or knick-knack shelf.
The Tru-Frame™ brand "Greenhouse window", offers rounded exterior corners, and a projection of 17.25″ from the exterior wall. Garden windows can be built using dual-pane clear glass or Infinit-e Plus Low-e glass.If you are already faced with a window replacement project, a garden window might just be the choice for your home.
Combination Windows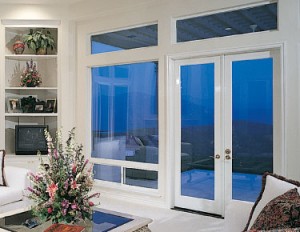 Combination windows are built by combining a Picture window with one or two single hung, double hung, or slider windows. The advantage is that both, or all three, windows are built into one attractive, strong, integrated frame. Combination windows are available in a variety of configurations.
  Double Hung
  Single Hung
  Picture over Slider
  3 Lite Slider
Vinyl Shutter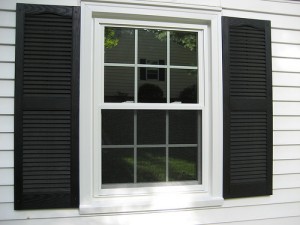 Equip our interior vinyl shutter inside of your window! These shutters hinge on either side of a window opening, and swing inwards to allow access to the window or to allow light to enter your room.
Shutters made of vinyl are now more popular than any other material because vinyl shutters are economical, easy to install, and long lasting.
Exterior vinyl shutters are one of the lowest-cost ways to boost curb appeal on a home.

RECOMMENDATION
Tip: Windows with the ENERGY STAR approval will save more money on heating and cooling costs compared to units that do not have the rating. 
Vinyl Window Replacement Benefits
Airtight Windows & Vinyl Siding will be happy to give you a free estimate for replacing your old windows on your home in Santa Cruz.  More and more people are finding that vinyl replacement windows are right for their home because they are affordable, easy to maintain, greatly cut down on the cost of energy, and are easy to customize. Vinyl window replacement options are the most widely used in the market today for a variety of reasons, including the following:
Extremely energy efficient
Long lasting and durable
Affordable and cost effective
Offer a wide range of colors and styles
Easy to customize
Simple and fast installation
No need to stain or paint
Installation will cut down on the cost of heating and cooling
Get a Free Home Estimate & Consultation Today Call Us

831-462-9695